SEO Keyword Research
Do you want to get in touch with customers?
Are you going to launch the new version of your website?
Have you planned all the specific SEO basic and advanced activities to boost your presence online?
Do you need to understand what are the most searched keywords, the high-volume ones, to rank and be competitive on the British Google UK or the Italian Google IT search index?
Or instead, do you need help defining the target keywords for the Spanish version of your e-commerce?
We are here to help you.
At Italylanguage.com we offer keyword research, competitive analysis, semantic profitability, and SEO content strategy. We started working for the Italian market in 2005. Then, in 2015 we have expanded, acquiring clients through Europe, UK and the United States.
We are market analysts, SEO strategists, copywriters, and content creators
Our experience, alongside with the trustworthy selected tools we use, makes the difference.
We start analysing the most relevant search terms that can convey a high-volume traffic to your website. Then we prepare a monthly editorial plan and create performing texts, graphics, and images. In this way, you'll have content for your pages, guides, articles, and social media posts.
Contact us today to receive a free consultancy regarding the best practices you can evaluate to start ranking your website for English, Spanish or Italian search terms.

*
SEO Marketing Strategy
Let us tell you how our method works. First, we need to run an initial market analysis that defines what are the most relevant competitors to monitor. Starting from the search terms they're controlling in the local SERPs (Search Engine Related Pages), we define the semantic area we'll work into. In this phase we proceed side by side with our clients, sharing with them reports and data visualisation outputs so that they are involved in the process. Defining the keyword universe is a crucial part of the organic growth SEO strategy, and clients have to be aware of the choices we are going to take. Because not only they are part of the company global sales proposal but they can also lead to further developments.
Semantic Markets, search intents and the value of words
Knowing what kind of value is lying behind words is an important phase in the organic growth strategy. Thanks to the search engine artificial intelligence, words become keywords when analysed and processed by Google's and Bing's robots, spiders and crawlers. Data are indexed and structured to find the most valuable representation of the real situation. Then, it comes back to the user, who prefers to click on some pages instead of others, who is constantly inputting new search terms in the search bar, to have new needs and wills satisfied. Following this dynamic and neverending process, web pages are evaluated and ranked on the SERPs. This result, that we have just tried to explain synthetically, takes place thanks to hundreds of queries, calls, scripts, algorithms and architectures that are working behind a single search on Google.
How keywords can be monetized?
SEO keyword research can be monetized.  It all comes back to longtail keywords inserted by the user in the search bar. One of the main roles of the SEO expert is to identify those relevant longtail keywords and cluster them according to the company's interests. Precise search intents define profitable opportunities, no matter if they regard direct sales or website traffic growth. This is the definition of a semantic market, a semantic market is a market where each word contains a value, and this value can be monetized. We are not speaking about PPC, pay-per-click advertising that's leading sponsored traffic to an ecommerce. The organic growth process starting with the SEO keyword research is different – when clicks are growing because you are doing well on the SEO side, traffic comes to remain. When you use Google Ads, incoming clicks are stopped in the moment you decide to pause your campaigns, nothing remains in terms of traffic.

*
What is a semantic market?
So, a Semantic Market is a place where keywords can be measured monetarily. The economic value each keyword owns is called Rank Value in a useful tool called Longtail Pro. You can see in the picture below what is the rank value of the 'Italian market' kw. "The estimated monthly value of ranking in the top organic search result. This is calculated using the Google Ads suggested bid and an estimated CTR (click-through-rate)". So, the value attributed to an organic keyword is based on the prices other people pay to Google Ads to appear in the SERPs for the same search terms.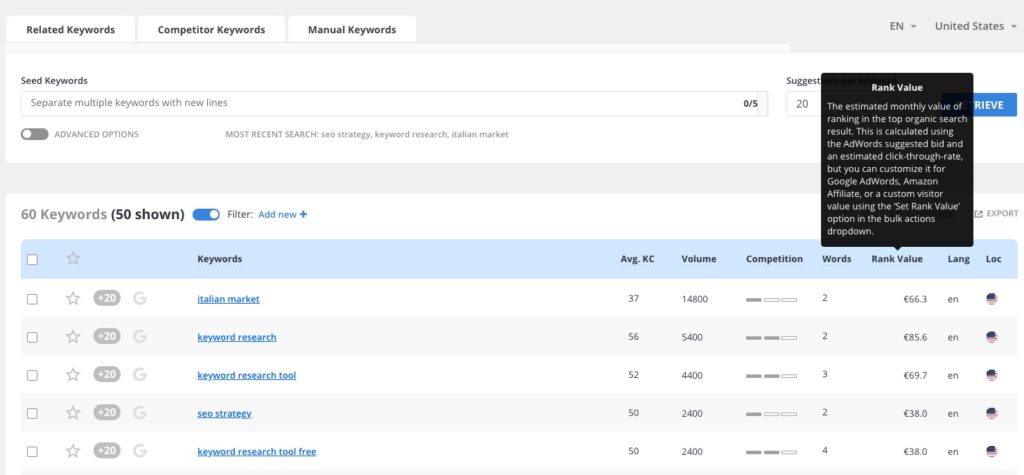 Semrush, Longtail Pro, Merchantwords, Spyfu, Ahrefs, Neil Patel's Ubersuggest, Google Ads Keyword Planner, Google Trends… focusing on each client's specific needs we use the best keyword research tool and competitor analysis software.
We work into American, British, Italian, Spanish-speaking or other Anglophones markets.
Test your Website – SEO + UX
Contact Us
It's time to better focus your website's core